Get coins just for browsing,
for free!
You can fill-in surveys, watch sponsored videos, and do quests
to get extra coins
Spend coins on great charitable causes and make the world a better place!
Feed thousands of children in poverty and give them a better future.
Plant trees around the world and help create a healthier climate.
Or redeem gift cards such as Amazon gift card or crypto currency.
BLOCK ADS AND
BROWSE UP TO 8X FASTER WITH PRIVACY
SHARE GOODNESS
WHEN YOU BROWSE
ALL YOUR FAVORITE SITES IN ONE APP
CHAT WITH ANYONE ON ANY WEBSITE
Block ads and browse up to 8X faster with privacy
Fulldive blocks ads, trackers, and popups that misuse your data, allowing you to browse privately. Blocking ads means faster browsing, up to 8X faster compared to Chrome and Safari.
Share goodness when you browse
You may see privacy-respecting ads, surveys, and offers that earn you coins. Spend it on causes you support: feed children, plant trees, or save animals.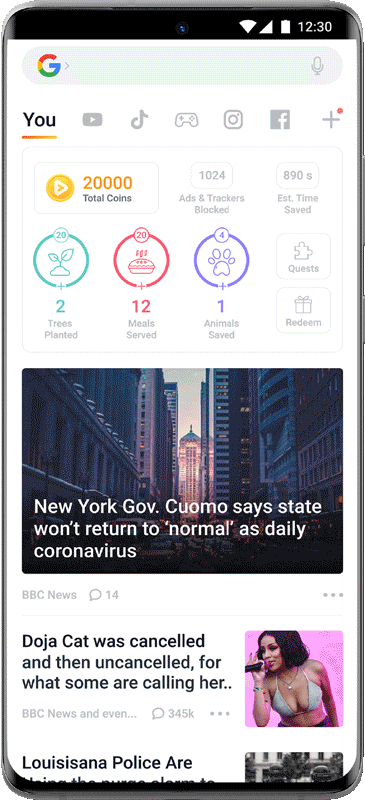 All your favorite sites in one app
Bring all your favorite social, video, and news sites in one single interface. Swipe through Youtube, Facebook, Instagram, and others with ease. Fulldive simplifies your life.
EXTRA FEATURES YOU WILL LOVE
Tag friends and comment on any webpage. Browse socially with friends and share your thoughts on things that interest you.
Read without ads and distractions. Customize by selecting your font size and choose between Day or Night themes.
Watch and play tons of video channels and mobile games curated by our small team. We love it, we hope you will too.